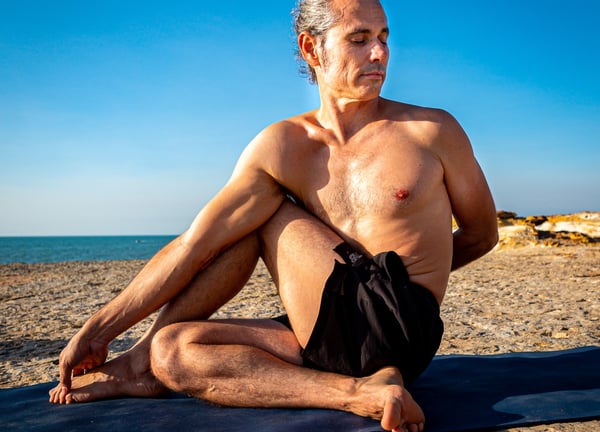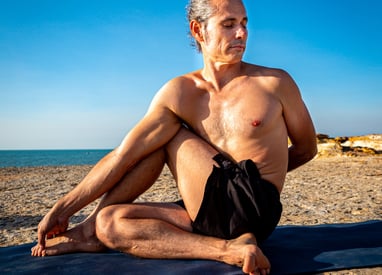 Paul came to yoga in 2011 whilst enduring a burn out that left him debilitated for 18 months.
He had been pushing himself endlessly for many years trying to get ahead on the treadmill of life.
"During this time I had absolutely no energy, suffering from bouts of depression and anxiety. I had to learn how to slow my system down to a healthy sustainable level."
Through the practice of yoga Paul learned how to listen to his body, slowly increasing his practice to a daily ritual. It was during this time that things began to change, everything from the type of food he was eating, to his body becoming more toned, but most importantly his mental habits were changing. At the time he wasn't aware of the power and effects that yoga could have upon you. He was surprised and wanted more of this ancient recipe for a healthy lifestyle.
When Paul first came to yoga he started in the Iyengar tradition with Maurice McCann at the Yoga Room in Burleigh Heads. He also practised under Simone Inns at Chevron Yoga. After 3 years of intense practise he began Iyengar teacher training and workshops with Glenn Ceresoli in Byron Bay. With further health concerns resurfacing he decided it wasn't the right time for him to embark on teacher training, and continued on as a practitioner.
After 5 years in the Iyengar system it was time for something new. Paul attended his first Ashtanga Vinyasa class at Gold Coast Yoga Centre in 2016, and loved it. For 18 month's he practised under Mark Togni and Cameron Storey. It was during this time that he began a daily seated meditation with the guidance of Mark Togni, who is not only an advanced Ashtanga Yoga teacher but is also a Zen priest. In 2018 Paul relocated to Darwin, without a teacher there he continued with his own self practice and read as much as he could on the topic of yoga.
In 2019 after reading two of Gregor Meahler's books Paul decided to undertake teacher training in the Ashtanga style with Gregor and his wife Monica Gauci from 8limbs.
"I believe my style of yoga has its roots in the alignment of Iyengar Yoga with the movement and breath of Ashtanga Yoga. I feel I am now experiencing more of the 8 limbs as set out by Patanjali. I love the movement of Ashtanga, and I also like to do a strong practice so this system is able to offer me this. Combined with pranayama and a daily seated meditation practice I have altered my life in almost every way".
After relocating in 2020, Paul is now practicing and teaching on the Sunshine Coast.